It all comes down to one question: what's your go-to food in Calgary? Your classic comfort foods, guilty pleasures, dishes you save for special occasions, or desserts that satisfy kids and adults? Whatever your answer, this ultimate list of famous food in Calgary will have something to tantalize your taste buds.
With a rich blend of cultural influences and a deep appreciation for traditional Canadian cuisine, Calgary's restaurants offer a delightful array of flavors and dishes that capture the essence of Canadian gastronomy.
We've compiled the top picks from locals and tourists alike—tried-and-tested dishes that make the city's culinary scene so vibrant.
So get ready to explore the best of what Calgary's restaurants offer, from Bloody Caesar to mini donuts!
Read on for an extensive food guide to some of the best dishes in town.
Famous Restaurants to Try Calgary Dishes
Stampede Food: Mini Donuts
The Stampede Food classics are the first type of Canadian food you must try while visiting Calgary. Mini-donuts, corn dogs, ice cream cones, and more can be found at the city's biggest summer festival—the annual Calgary Stampede.
The mini-doughnut became a Western Canada snack in 1968. After that, it has been a sensational staple at festivals and events.
Not only will you get to try all these delicious treats at Calgary Stampede, but you'll also experience the unique culture that makes this city so special.
Contemporary Calgary Cuisine at the Simmons Building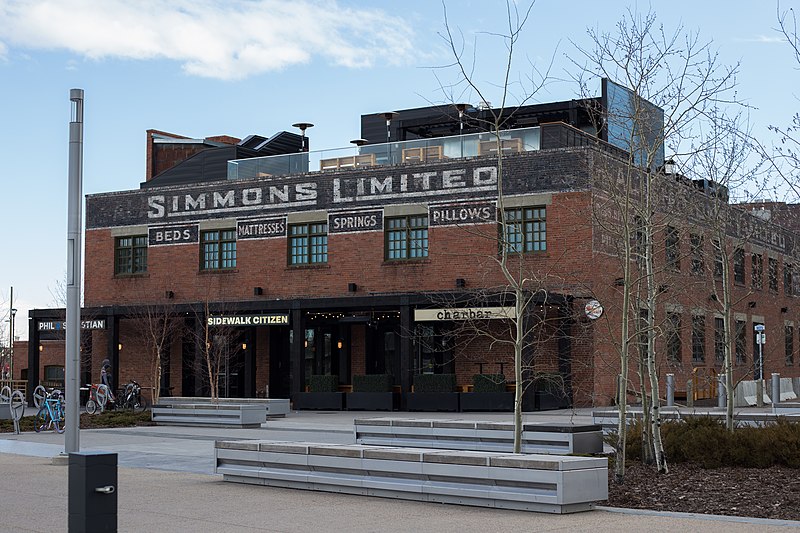 Calgary is known for its unique and delicious food scene, which can be experienced in several places. But first, you must check out the infamous Simmons Building in downtown Calgary's heart.
This historic space serves some of the best contemporary Calgary cuisines around—all while celebrating the city's diverse food culture with flair!
There are some iconic dishes to try here, from their classic bison tartare to their delectable chorizo pretzel boards.
Authentic Italian at Cotto Enoteca Pizzeria
When you think of Italian cuisine, your mouth starts to water — as it should be. So enjoy some authentic Italian food in Calgary's Cotto Enoteca Pizzeria.
The vast menu selection includes delicious pizzas, pasta, and more. Interestingly, they use traditional hand-tossed dough and make mozzarella cheese in-house for that distinctive flavor!
In addition, don't forget to check out their antipasti menu—plenty of starters and small plates like bruschetta and crostini are perfect for a light meal or snack.
Silver Inn Restaurant: Peking Duck
Silver Inn is a renowned restaurant that has delighted taste buds for decades. One of the must-try dishes at Silver Inn is their famous Peking Duck.
This iconic Chinese delicacy features succulent roasted duck with crispy skin, served with delicate pancakes, scallions, and hoisin sauce. The combination of flavors and textures markedly creates a memorable dining experience.
Another crowd favorite is their flavorful Kung Pao chicken. Tender chicken pieces stir-fried with peanuts, vegetables, and a spicy-sweet sauce. This dish perfectly balances heat and savory flavors, leaving you wanting more.
Sidewalk Citizen Bakery: Pastries of All Kinds
Are you looking for a taste of Calgary's culinary delights? Sidewalk Citizen Bakery would leave you in awe! This famous bakery offers an array of mouthwatering treats that will leave you craving more.
First on the must-try list is their famous sourdough bread. Baked to perfection with a crispy crust and a fluffy interior, this bread is a staple for many Calgarians. You won't be disappointed if you enjoy it plain, toasted, or as a sandwich.
Next up, indulge in their delectable pastries. Each pastry is crafted carefully and boasts flavors transporting you to pastry paradise.
The Best Burgers in Calgary at Clive Burger
Clive Burger is the place to go if you're looking for a unique dining experience in Calgary. Here you'll find some of the city's best gourmet burgers, cooked to perfection and served with delicious sides. The specialty here is the Clive Burger, a combination of Angus beef, cheese, and special sauce, served on a freshly-baked bun.
But that's not all – other can't-miss burgers include their classic burger with bacon and their Avocado cheeseburger made with fresh avocados.
Caesar Cocktail: Palomino Smokehouse
Do you know Calgary's classic drink of all time? The Caesar Cocktail! Walter Chell invented This renowned drink in Calgary, and it is one of the city's signature dishes.
If you are curious about Caesar, you can have a taste at The Palomino Smokehouse. They offer their signature version, mixing vodka, clamato juice, Worcestershire sauce, hot sauce, and a unique blend of spices.
So if you're looking for an authentic and unique experience, try out a Caesar cocktail in Palomino—you won't regret it!
Cluck n Cleaver: Fried Chicken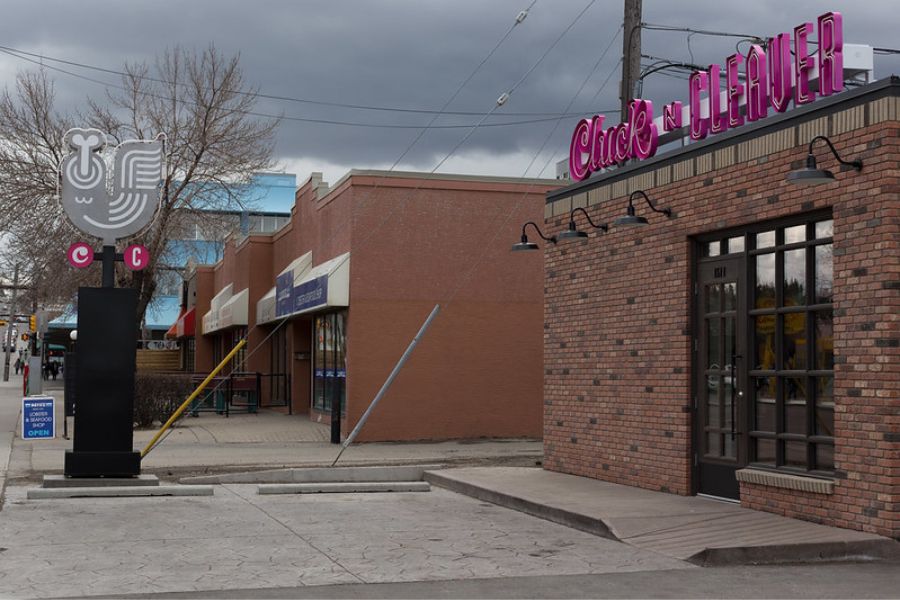 For a good reason, fried chicken is all the rage in Calgary. However, one spot you can't miss for a unique and delicious experience is the Cluck n Cleaver.
This local favorite serves up classic giant chicken dishes and some creative takes on the plate. First, try their signature buttermilk fried chicken with garlic and herb butter sauce. Besides that, you can choose from their spicy options, like the hot fried chicken made with house-made Cajun seasoning or the Nashville-style hot chicken.
And, of course, top it off with one of their house-made sauces – ranging from mild to wild!
One18 Empire: Duck Fat Fried Brussels
Do you want something unique and delicious? Head to One18 Empire and order the Duck Fat Fried Brussels. It's one of the most popular dishes on the menu and is worth trying.
The Brussels are fried in duck fat, giving them an incredibly savory flavor you won't find anywhere else. They're also served with an apple aioli that accompanies them perfectly. The flavors of Brussels and aioli blend to create a heavenly taste suited for every taste bud.
Silver Dragon Restaurant: Ginger Beef
If you're looking for something eccentric, who could forget the classic Calgary staple—Ginger Beef? This local dish can be found in many places, but Silver Dragon Restaurant is the best place to get it. This local establishment is famous for its delicious version of this popular Asian dish.
The key to an exceptional plate of ginger beef is in the sauce. Silver Dragon Restaurant gets this right by blending up a signature mix that has been perfected over the years. No other spot in town can even come close to replicating their famous ginger beef!
Bonterra Trattoria: Eggs Benedict
Are you craving some Eggs Benedict? Head to Bonterra Trattoria, located in Calgary's historic Mission district. Bonterra serves up some of the best Eggs Benedict in town. The restaurant is famous for its fresh ingredients and stunning presentation, making a plate of eggs benedict come alive!
The Eggs Benedict features a poached egg sitting atop an English muffin, and Canadian smoked ham, topped with hollandaise sauce. An actual Calgary dish! It's the perfect mix of savory and sweet, with the creamy hollandaise balancing the delicious Canadian smoked ham.
Una Pizza: Delicious Pizzas
Una Pizza is a great spot to sample some of Calgary's famous pizzas. Located in the heart of Kensington, Una Pizza has been cranking out delicious Neapolitan-style pies since 2017.
Their house-made artisan dough serves as the base for their tasty creations, including classic flavors like Margherita, funghi, and pepperoni.
For a truly unique experience, try one of Una Pizza's rotating specials, like their 'Taco Tuesday' or 'Friday Night Fungus' special.
Lee's Grille and Bar: BBQ Pulled Pork
Are you looking for the best place to get some seriously delicious BBQ pulled pork in Calgary? Lee's Grille and Bar is the pro!
They serve traditional BBQ favorites like brisket, ribs, and beef and a unique selection of pulled pork sandwiches and sliders. And if you're feeling adventurous, try their pulled pork poutine!
Broken Plate: Authentic Greek Food
Broken Plate is a renowned restaurant serving a taste of Greece right in the city's heart. Start your culinary journey with their famous saganaki.
This traditional Greek dish features melted Kefalograviera cheese, flambéed to perfection, resulting in a heavenly combination of crispy edges and a gooey center. It's undoubtedly a true delight for cheese lovers.
River Cafe: Chef's Tasting Menu
Indulge in this pure culinary bliss that will take your taste buds on a delightful adventure through the flavors of Alberta.
Prepare to be amazed by the exquisite creations prepared by the talented chefs at River Cafe. The Chef's Tasting Menu is a carefully curated selection of dishes that showcase the finest local ingredients, artfully combined to create a symphony of flavors.
Moti Mahal – Indian Food
If you're in Calgary and craving authentic Indian cuisine, a visit to Moti Mahal is a must! This renowned restaurant is a hub for flavorful dishes that will transport your taste buds to the vibrant streets of India.
Start your adventure with their signature butter chicken. This creamy and aromatic dish is made with tender chicken cooked in a rich tomato-based gravy seasoned with a perfect blend of spices. It's a classic favorite that never disappoints.
In A Nutshell
Need delicious, famous food in Calgary restaurants? No worries! You'll find all kinds of innovative dishes in this vibrant city—from classic Canadian favorites like poutine and butter tart to international cuisines like Japanese ramen and Mexican tacos.
So, the next time you're looking for the best restaurants in Calgary, explore the variety of local eateries and discover your new favorite dish. Bon appetit!